Management, consulting, and insurance brokerage firm
With experience in insurance, consulting, and strategy, our executive team brings innovative perspective to managing risk and improving your business' efficiency. Our success is determined when clients choose us based on our ability to surpass expectations in price, customer service, and risk management.
Aegis Group is not over-saturated.
Our primary focus is in the following sectors:
Real Estate
Habitational, Retail, Tax Credit, Senior Housing, and Industrial.
IV in the first 36 months of operation and have additional portfolios pushing our total insured value portfolio well over $3B.
We are developing our property program by asset class throughout different regions.
Healthcare
Hospital, Free Standing ER, Ambulatory Surgery Centers and Clinics.
Our portfolio of healthcare groups is rapidly growing. We have six facilities written to date with large projected increases over the next 24 months. One of our strategic partners is currently in construction on three, $75M+ facilities, with an additional six to be built.
Transportation & Logistics
Courier, Trucking and Brokerage.
We wrote over $1M for transportation business in the last 12 months with a new team that will focus on that industry.
Executive Risk
Private Equity, Venture Capitalists, Family Office and Real Estate, Investment Trusts.
Our unique business plan has created opportunity to work with mergers, acquisitions, and overall executive risk management, making us trusted advisors and agents.
Hospitality
Full Service, Franchised, Non-Franchised, and Extended Stay Hotels.
Over 50 hotels, over 6,000 keys, specialized programs specific to the industry.
Rapid Growth Projections
We have defined our value proposition, industry expertise, and the value we deliver to our clients and partners in over 40 states.
Our numbers are expected to grow rapidly as our
partners find new opportunities.
States in which business has been written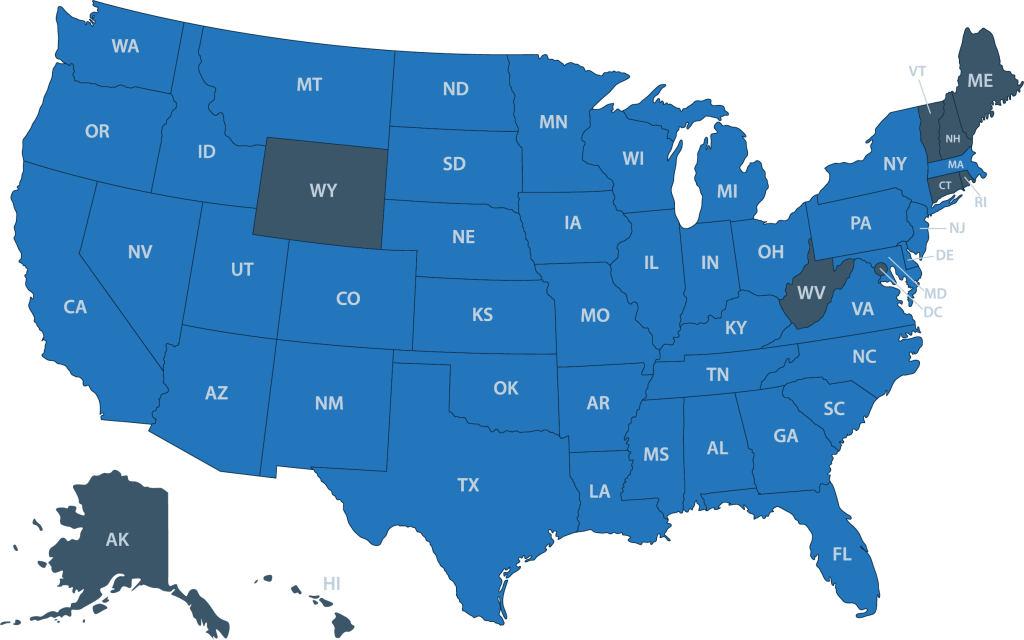 Aegis Company History
In just a few short years, the Aegis Group has grown beyond every projection and continues to establish itself as a thought leader in the insurance industry.

2016: Aegis Group Created
Launched in September of 2016, Aegis Group LLC's founding partners were led by Andy Frieze and Jerry Garcia along with two private equity Firms.

2017: Writing of New Business
Aegis Group starts writing new business in March of 2017. The primary focus for Aegis is Real Estate, Healthcare, Transportation, Construction, Executive Risk Management.

2018: Success in Defined Sectors
Aegis Group bypasses $500M TIV in Real Estate coverage placed. Total Agency premium volume is greater than $6,000,000.

2019: Profit Sharing with 40% of Carrier Partners
Aegis Group is on pace to surpass $10,000,000 in agency premium. In a short three years, Aegis has experienced exponential growth.

2020: Hospitality Focus
Aegis expects to surpass its current growth with over 6,000 Hotel Keys and over $500 million TIV in Hotel Real Estate coverage placed.

2021: Planned Organic and M&A Growth
Aegis expects to continue its current growth trajectory of over $2 Billion in real estate volume and is in discussions to acquire two small to medium sized agencies in market.